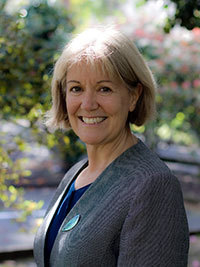 Dr Jackie Smalldridge
MBBS, FRCOG, FRANZCOG
Dr Jackie Smalldridge trained in medicine in London, graduating in 1986. She became a Specialist in obstetrics and gynaecology in 1994 and worked at Counties Manukau District Health Board as a specialist gynaecologist until 2015. Jackie developed a special interest in urogynaecology with further training in the UK and USA.
Jackie's area of expertise is in the management of urinary incontinence, prolapse, urodynamics and general gynaecology. She is also interested in postnatal perineal trauma management. She is a member of the International Urogynecological Association (IUGA), Asia Oceania Federation of Obstetrics and gynaecology (AOFOG) and the Pacific society for Reproductive Health (PSRH).
Jackie is part of the NZ Pelvic Floor Research Group, collaborating with the Auckland Bioengineering Institute at the University of Auckland to develop novel devices that will lead to improvement in the treatment and prevention of prolapse and urinary incontinence. The Femfit device has been developed from this collaboration. For further information and purchase of the femfit device please see www.junofem.com
For the last few years, Jackie has been volunteering in Uganda and the Pacific joining a team of Specialists operating on women with prolapse and Obstetric fistula. For more information see www.ranzcog.edu.au/volunteer-diaries.html. She has been fundraising through Medical Aid Abroad (www.maa.org.nz) and with an initiative with Kokako coffee donating funds through the sale of Bukonzo Joint fair trade organic Coffee from the local growers collective near Kagando Hospital, Uganda. (For more information please see bukonzojointcoffee.com
Jackie has been in private practice since 2003. She is married with two adult children.
For an appointment with Jackie, call her secretary Fiona on (09) 623 0161 ext 215, or email jackie.smalldridge@onesixone.co.nz or for general enquires email reception@onesixone.co.nz